Capitalism, War on Drugs, and Labor Rights
May 25th-June 2nd 2019
Join us on a delegation to Colombia from May 25th – June 2nd to explore the connections between the War on Drugs, Neoliberalism, and Labor rights particularly during the implementation of the peace accords.
This delegation will travel throughout Cauca and Valle de Cauca, Colombia meeting with social leaders who are at the forefront of movements building socio-economic justice.
Both President Trump and Colombia's newly elected President Ivan Duque favor a return to vintage drug war tactics. These include increased militarization in rural areas and policies such as aerial fumigation- spraying Round-up on coca crops- despite evidence that this pollutes water sources, kills food crops, and acts as a carcinogen. These policies fail to address the socio-economic reasons people grow coca, threaten livelihoods, and conflict with a key provision of the Peace accords signed in 2016 that supports voluntarily substitution efforts. At the same time, the US and Colombia continue to deepen their engagement with free trade policies. These policies are linked to decreased pay for workers and provide few mechanisms that support workers rights or recourse for violations.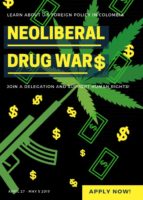 This delegation explores the following questions:
How is the War on Drugs connected to neoliberal policies (unfettered free market, privatization of state services,etc.)?
How does the current US supported socio-economic model in Colombia threaten the implementation of the Peace Accords?
How are women, workers, indigenous peoples, Afro-Colombian's, and small farmers building grassroots initiatives to create a more just and equitable alternatives? How can we link our efforts across borders?
Participants on this delegation will:
*Meet with a wide range of Colombians (community leaders, labor leaders, displaced persons, and human rights defenders)
*Explore the connections between women's rights and human rights
*Learn about social organizing in Colombia
*Learn how we can link our movements for socio-economic and labor justice across borders
Cost: $1,400, a $250 non-refundable deposit, plus airfare
Application and deposit deadline: March 15th
For more information or to sign up for this delegation contact Chelsey Dyer at cgdyer@ncsu.edu
To APPLY for the delegation click HERE